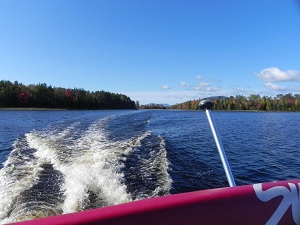 Local Master Maine Guide Jeff Hinman will show you the majestic Flagstaff Lake and it's surrounding landscape from the comfort of his pontoon boat. Take in scenic views of the Bigelow Mountain Range, learn the fascinating history of Flagstaff Lake and the lost village of Flagstaff, and spot native Maine wildlife like bald eagles, loons and even the occasional moose. Jeff offers a variety of services such as:
Scenic Historic Cruise
Enjoy magnificent photo opportunities, exceptional wildlife spotting, tales of the Flagstaff Lake area, and relaxing pontoon boat cruising on this scenic historic cruise around the lake. This tour lasts 2.5 hours and is available for 4 to 12 persons at $40 each.
Lunch Cruise
Cruise the length of Flagstaff Lake to Flagstaff Hut for lunch. Return after lunch and enjoy the lake scenes, birds and wildlife on the return voyage. Boat departs from Stratton at 10:00 AM and departs Flagstaff Hut after lunch, approximately 1:00 PM. Available from early July until late September. The cost is $50 per person with a 4 person minimum and room for up to 12.
Flagstaff Hut Shuttle
Cruise the length of Flagstaff Lake to Flagstaff Hut for an overnight getaway. Leave Stratton by 4:00 in the afternoon. Plan to return after lunch at the end of your stay. 4 person minimum – 10 person maximum 
Hiking Transfers
For all your Bigalow Mountain hiking adventures, enjoy a relaxing cruise to some of the local hiking trails surrounding the lake
Kayak Drop-offs
Want to explore Flagstaff Lake on your own terms? Let Jeff cruise you out to a spot on the lake where you can take a kayak around and explore the wilderness at your own pace
Half/Full Day Boat Cruises
Jeff and his boat are available for half and full day guided cruises to explore Flagstaff Lake. Half day cruises cost $350 and full day cruises cost $550 with no minimum persons required.