Jeff Hinman – Owner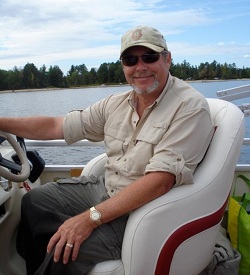 Jeff Hinman is the owner of Flagstaff Lake Scenic Boat Tours as well as the captain of the company's only pontoon boat. As a Master Maine Guide, Jeff has the experience and knowledge to bring you the true beauty of the Maine wilderness. Originally a chef for 32 years, Jeff saw an opportunity to begin a service in which he could show off the beautiful countryside that surrounds Flagstaff Lake and even tell a few stories about the history of the  Flagstaff Lake area. Jeff is entering his 12th season of offering scenic boat tours in 2016 and he looks forward to showing you one of the most majestic landscapes in the state of Maine.
Tour Boat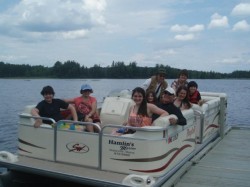 Jeff Hinman captains a pontoon boat that is capable of carrying up to 12 customers.
Flagstaff Scenic Boat Tours Named "Best of New England" by Yankee Magazine
Eustis, ME – May 24, 2013 – Flagstaff Scenic Boat Tours has been recognized in the May/June 2013 "Best of New England" Travel Guide.
 This prestigious designation is awarded by Yankee's editors and contributors, who name select restaurants, lodgings, and attractions in New England to the exclusive list. For 37 years, Yankee Magazine's Travel Guide to New England has been the most widely distributed and best- selling guide to the six state region, providing readers with a comprehensive vacation-planning tool and daily reference.
 Flagstaff Scenic Boat Tours offers pontoon boat tours on Flagstaff Lake, the fourth largest lake in Maine. Flagstaff Lake was created between 1927 and 1950 as a water storage reservoir for hydro dams on the Kennebec River. In the process three villages and numerous farms were flooded.
 All the trips on Flagstaff Lake offer opportunities to appreciate the remote wilderness, look for wildlife and view the magnificent mountain scenery. Much of Flagstaffs shore line is undeveloped and protected by conservation land and easements.  The lake is over 27 miles long and surrounded by mountains, including the scenic vistas of the Bigelow Range with 2 peaks over 4000', with magnificent views for 15 miles along the south shore and with the Maine-Canadian Boundary Mountains to the north.
 Owner and tour guide Jeff Hinman guides guests around the historic lake in a comfortable and quiet 22 foot pontoon boat.
 Guests can select from several trips:
Two and half hour Scenic Historic Tour with tales of the lost villages and creation of the lake.

Lunch Cruises to the Maine Huts & Trails Flagstaff Lodge

Half Day and Full Day Guided Tours

Wildlife Photography

Full Moon Cruises

Other Trips available
 The boat tour season starts in late May and runs until the end of September. Trips for 4 to 12 people available daily by reservation.